Above: Lamar Odom and Psychedelic Advocate Mike Zappy Zapolin.
We're Calling a Sector Bottom, and Psycheceutical (BWVI) as Our Favorite.
We launched the Psychedelic Stock Review in October of 2021 and pulled the plug a couple months later, when our technical analyst saw dark storm clouds heading to shore. And good thing too.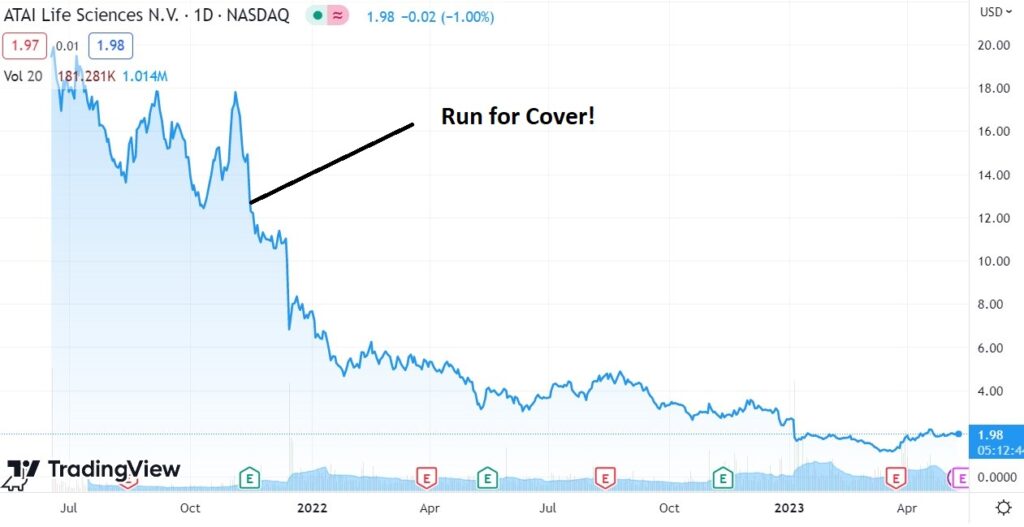 We're wildly enthusiastic on the treatments being explored and developed and now were wildly enthusiastic about the sector. Sector recoveries are notoriously difficult to time, but were seeing a recovery in one of the leading plays, ATAI Life Sciences which had Peter Thiel as their big fan. They came out at $15 raising $225 million. It traded up 40% and then just as fast as the party started, it ended in tears.
If you look at charts of a couple ETF's that launched at the height of the craze, it would be comical, if it weren't so sad. At its peak, ATAI was valued at $2.3 billion, which isn't bad for a bunch of lab coats toiling away.
Today it's valued at $327 million, up from $189 million, at its recent low of $1.14.
SHORT TERM CHART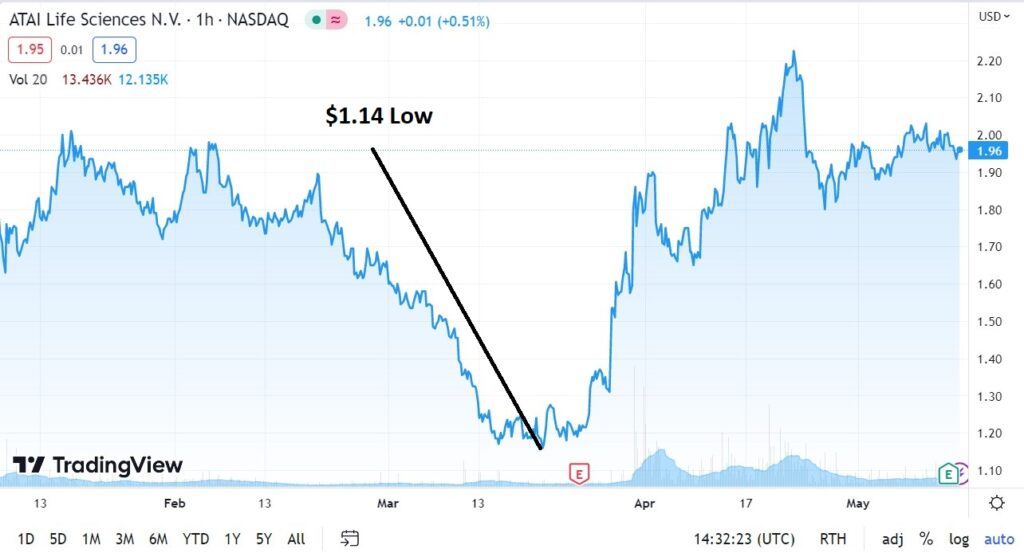 ---
So we've spent the past four months going over nearly every psychedelic stock out there. Well be coming out with a Top 10 List next week and reissue the 2023 Psychedelic Investor Guide.
Here is the 2021 Guide.
The Group Has Been Decimated.
(Bottom Fishing Anyone..)

TPIA
Mycotopia
0.0530
-98.42%
3,614
787,495
HAVLF
HAVN Life
0.0376
-97.91%
7,567
554,171
SILFF
Silo Wellness
0.0142
-97.77%
81,285
2.036M
NMDBF
NeonMind
0.0076
-96.67%
0
8,631
LVTTF
Levitee Labs
0.0018
-93.48%
6,231
368,750
DELCF
Delic
0.0052
-91.99%
159,481
688,448
ENVB
Enveric Bio
1.6200
-91.24%
32,083
3.935M
GDNSF
Goodness
0.1896
-89.64%
140,648
24.698M
DRUG.CN
Bright Minds
0.6700
-88.96%
12,035
12.536M
RVVTF
Revive Thera
0.0435
-88.86%
544,917
15.767M
KONEF
Wellbeing
0.0098
-88.22%
62,457
39.303M
GBNH
Greenbrook
0.7560
-87.23%
319,417
33.559M
PSYBF
PsyBio
0.0209
-85.62%
16,924
2.975M
MNMD
MindMed
3.0900
-84.51%
407,467
129.215M
DMTTF
Small Phar
0.0528
-84.13%
115,029
18.417M
---
So here's some details about our current favorite. While not a price target, which we don't issue, we do think it has 10-bagger potential. This newsletter while short, marks the date and price we called it our favorite. More to come next week. It is a light trader, so volatility should be expected.
A ten-bagger would mean $1.40 in a couple years. We have no idea where this could trade short-term, but were so excited about the potential of their delivery mechanism for Ketamine (which was approved by the FDA: Johnson-Johnson-Janssen's Spravato) we signed them as a client. There are a lot of questionable (survival questions) with many of the psychedelic companies out there, but their technology called NeuroDirect™ makes this company stand out above all others.
The better the stock does, the better we do and we're hoping this one can lead to our dream of owning a Tiki Bar and Motel in the Florida Keys, with a few jet skis..
News of Phase I and II trial: PSYCHECEUTICAL TO CONDUCT THE FIRST EVER PHASE I AND II CLINICAL
In any event, this squarely puts us on the same page as other shareholders, our motivations are aligned.
We had a thirty minute conversation going over the technology with Chad Harman the CEO and spent the morning yesterday with Mike 'Zappy' Zapolin going over the commercialization and business plans.
RELATED: Yale University and Ketamine
---
Chart looks tasty!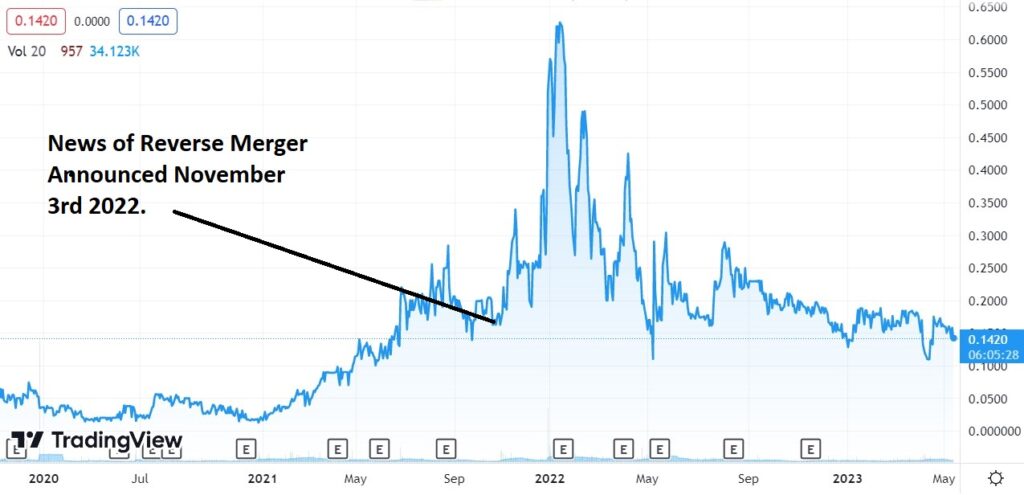 For now, the following recent press release is a good starting point for your due diligence this weekend, as well as a visit to their website.
The Next Generation Of Mental Health Treatment: Psycheceutical Bioscience Inc.'s Novel Topical Ketamine Delivery.
Psycheceutical Bioscience Inc Website
---
Disclaimer.
Certain statements in this news letter related to the Company constitute "forward-looking information" within the meaning of applicable securities laws and are prospective in nature. Forward-looking information is not based on historical facts, but rather on current expectations and projections about future events and are therefore subject to risks and uncertainties which could cause actual results to differ materially from the future results expressed or implied by the forward-looking statements. These uncertainties include, but are not limited to, (i) general market growth for and acceptance of psychedelic-inspired medicines, (ii) capital and credit availability and market volatility, (iii) general economic conditions, (iv) governmental approvals and compliance with regulations, (v) product research and development and clinical trial risks, including the transferability to the US FDA of trial results from trials conducted outside of the US (vi) incorrect underlying assumptions, and (vii) our future business development, results of operations, and financial condition. These statements generally can be identified using forward-looking words such as "will," "may," "should," "could," "intend," "estimate," "plan," "anticipate," "expect," "believe," "potential" or "continue," or the negative thereof or similar variations. All information provided in this press release is as of the date of this press release, and we undertake no duty to update such information, except as required under applicable law. Institutional Analyst Inc has been compensated with a combination of stock and cash of of five-thousand per month for providing new coverage and reporting.
Contact:
Kaia Roman, VP, Strategy & Communications
[email protected]